Here you will find many resources to help you use the Tawasol Symbols. Most resources are provided as Word documents so that you can make changes and personalise resources as needed.
Download the Tawasol Word List released in May 2016 (Phase 1) and March 2018 (Phase 2).  The list provides you with a translation of each word, its frequency of use with AAC users and those supporting them as well as the part of speech. This is not a complete list of the words used for the symbols available for download  as these are constantly being updated.   The download version of the word list will be updated once additional words have been checked by our AAC Forum.
Fill in the gaps – Choose the right symbols to complete these sentences. Arabic version
Fire drill today – An evaluation completed together with the student on their behaviour during a fire drill. Arabic version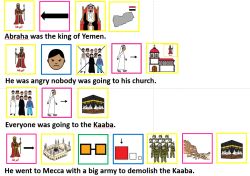 The Prophet Muhammad (PBUH) Symbol book which tells the story of Mohammed from is birth to death using Tawasol Symbols and ARASAAC symbols. Arabic version.
The Prophet Muhammad Symbol Book Worksheets – Symbol worksheets corresponding to our symbol book – "The Life of The Prophet Muhammad (pbuh)". Arabic version
Visual Schedule for a school day – A visual schedule template and symbols for things that happen in a typical school day. Cut out the symbols and stick them on to the template to help structure the day. Arabic version
Weekend events – A worksheet to help students recount the things they did over the weekend and expand on the details. Arabic version
Basic Requirements board –  20 symbols representing some common needs with Yes/No, feelings and requests. Arabic version
Memory Game with Qatari Food Symbols – 2 x 8 symbols that can be matched or shuffled to play memory games. Arabic version
Bathroom routine – Help teach the Bathroom and washing hands routine with these symbol sequences. The Tawasol version has an extra step that may not appear in Western bathroom routines. Arabic version
Keychain – Cut and insert a keychain into these symbols for use in the playground, on weekends or by other staff at school. For quick and simple communication occasions, this is a great alternative to carrying around a bulky communication book. Arabic version
Prayer Times Arabic and English – Teaching prayer times? Here's a sequenced prayer time board to help students conceptualise the different prayers and their timing in the day. Arabic version
Core word chart male version and female version. Arabic version for males and females.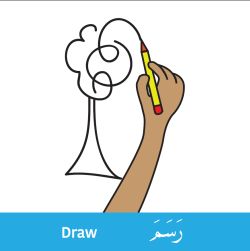 Tawasol symbol cards  Samples for memory games, word walls, individual cards for printing – design your own using our Symbol Creator.